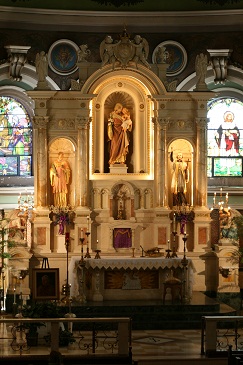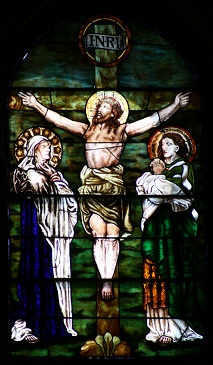 St. Joseph's Roman Catholic Church
1010 Liberty St.
Camden, NJ 08104

Phone: 856-963-1285
856-963-1383
Fax: 856-963-2466

Office Hours: Mon.-Fri. 9:00 to 3:00
E-mail: stjsph-camden@camdendiocese.org

Established 1892

We welcome new members to our parish family.






View the July edition of Growing in Faith.

Click here to view the Parish events calendar for 2014 through 2015.



View the Church Bulletin.



* * * Recently, a parish family suffered the loss of their home and all of its contents due to a fire. Our parish is raising funds to help them recover. Donations of any amount are appreciated. If you would like to donate, please send a check payable to St. Joseph's Church - Fire Victims. The check can be sent to St. Joseph's Church, 1010 Liberty St., Camden, NJ 08104. Your kindness, support, and consideration are appreciated. * * *



Our video broadcast from the church is back! There will be some adjustments as we fine-tune some settings on the new equipment. Getting the chapel back online is next. We will let you know when that is back online.



View information about Saint John Paul II and Saint John XXIII.



View the Church's Teaching on Relics.







Welcome!


Thank you for visiting St. Joseph's internet site.


The goal of our site is to offer internet video streaming of our masses and information about St. Joseph's church. Although the service is not to be considered a substitute for attending mass, if you are sick, traveling, or maybe no longer live in the area, the streaming video is being offered so that you may enjoy that special feeling that mass at St. Joseph's provides and stay in touch with your St. Joe's community.


Please spread the word about our new site and check back often for new content and features as they become available. If you would like to help support and defer the cost of this service, please send your donation to St. Joseph's and in the memo portion of your check note that it is for the Internet Service. This is a very exciting time at St. Joseph's. We hope that you will support and enjoy this new initiative.


Sincerely,

Fr. Pawel W. Kryszkiewicz





---




During a live broadcast you will be able to select the "Watch an ad now" at the top of the video screen to view commercials. If you watch four commercials in a row in the beginning you will be able to watch a one hour broadcast uninterrupted. Each commercial that you watch provides you with 15 minutes of viewing time. Please note that the commercials that you see are from Livestream, our video broadcast provider. The church does not select or benefit from this advertising. You can remove an ad from the screen by pressing the red circle with the X in it after it appears.


Press the play button (the small arrow) located in the lower left of the video screen next to the speaker symbol to pause and play the video and to stay on the St. Joe's site. If you press the play button in the middle of the video screen, you will be taken to our Livestream channel. You can use the slider at the bottom of the video screen to fast forward or rewind while watching recorded videos. You can adjust the volume on your PC by clicking on the speaker symbol located in the lower right corner of your screen and adjusting the slider up or down to find the best volume.

Click here to view our recorded Masses on our Livestream channel.





LIVE BROADCAST is available when LIVE is in the lower left corner of the video screen.






Mass is planned to be broadcast during the following times:



Saturday 4:00 PM English
Sunday 9:00 AM Polish
Sunday 10:30 AM English

Wed.-Fri. 9:00 AM English

Vigil of Holy Days 5:00 PM

Holy Days 9:00 AM